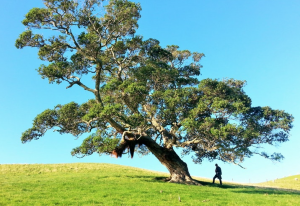 Are you stumped for ways to make a little extra income?
Baby boomers have heard the story that every oak tree starts out as an acorn.  Let me add a caveat that not every acorn ends up being an oak tree!  And if the acorn doesn't make it as an oak tree, it doesn't have a choice of being a daisy.
Ideas in some ways are like oak trees.  You have to plant the acorn and it has to have the right amount of water, sunlight, and fertilizer, in the proper amount needed by the acorn.  It has to be nurtured to become an oak tree, and of course here comes an oak borer or oak weevil, (Is there such a thing?) and you get the picture!  Ideas seldom become reality.  But all good things in life started out as an idea!
What happens if I find out I'm short on retirement savings?
Financial well being is also something that takes planting and nurturing, and a few of us baby boomers have planted early, nurtured correctly and have a nice oak tree to live on when we retire.  But some of us forgot to plant, others planted and had a drought, some of us planted, carried water over great distances only to have an oak weevil eat all the leaves off.
But, however dire the future seems, all is not lost until the Grim Reaper knocks on our door.  And that he does to everyone, eventually, whether you have that oak tree in full leaf or not.  So unless you see him walking up the sidewalk, you're not out for the count!
Some of us have skills we can use later in life, if you owned a business, you could be a business consultant.  Some of us are still fairly physically fit, we could start a little lawn business or handyman business.   We could solicit our friends and relatives for odd jobs, or babysitting our grandkids.
For those of us who don't want to commit to a physically demanding job, or don't have the business saavy other folks do, there are still options other than WalMart Greeter!  Maybe it's not going to grow into an OAK TREE, but that doesn't mean we can't plant some seeds.
What if you could plant some seeds now that could grow into a garden?
What if that garden might not be an oak tree but could certainly become big enough to relieve some of the financial pressure a LOT of us baby boomers feel on a daily basis.
What if you do have enough income to eat and keep a roof over your head, but taking the grandkids to lunch isn't going to happen.  Maybe you could plant a few seeds now, have a little fun nurturing them, feel good about learning something new, and come out in 3-6 months with a little extra income?
Without shelling out a wheelbarrow full of money to buy little packets of seed!  You could plant one, water it, walk away, tomorrow plant another, pretty soon you have your garden and then voila, you have fruit and vegetables.  That could work for me.  There may be a solution for this dilemma you've found yourself in!
I kept my nose to the grindstone and life threw me some curves.
Now, we baby boomers were brought up with the understanding that if you worked hard, you kept your nose to the grindstone, all would be taken care of.  One thing we weren't taught was something the later generations grew up with… How to make money on the internet.  Our generation pioneered the creation of the internet.  This allowed the next generations to thrive in the environments we pioneered for them.  But just like any technological development , most people weren't able or willing to follow, or didn't have access to resources.  They stayed on the sidelines and didn't venture out much into the brave new worlds that were opening up..
Nowadays, unfathomable amounts of money, goods, and services are exchanged in this new medium and we, the baby boomers, don't even realize it.  Furthermore, we're not a part of it so we aren't partaking of this exchange of money, goods, and services.  Baby boomers can still have a part of this, we just need to learn a new way of doing business.
How does this work?
Just like our Walmart Greeter who doesn't have any merchandise for sale, we don't have to invest heavily into stock to sell.  All we have to do is introduce our customer to the right store or the right department of the store.
It goes like this: "Here, take this cart, enter into this huge area that contains almost anything and everything you might need!"  That's all we have to do, is introduce them to what they need or want.  In order to do that, we'll need a few items.
We'll need a niche, a website and a product.   A niche is our potential customer base, the website is our store, and the product is of course what we will market.
The niche should be a favorite hobby or interest, something you know more about than the normal Joe or Edna on the street.  Something you are passionate about.  And it's easy to pick too big of a niche, such as weight loss, or automobiles.
You want to whittle that niche down to a small enough audience that you can make it to the top of your chosen customer base.  Weight loss for baby boomers!  Or weight loss after having a baby.  The smaller the crowd the better chance you have of becoming an expert.
Website builder training is available from a number of webhosts, some of the better ones are Wealthy Affiliate, followed by Clickbank.  You can start out with WordPress which is great for blogging.  If you really want to get your feet wet you can attempt a website selling your own merchandise using something like Shopify or WooCommerce.
Finally, you need a product.  Probably starting out with one or a few products is best, as you want to be able to concentrate all of your skills and abilities on one product at first.  If your niche happens to be weight loss for baby boomers, maybe you want to market a scale with large numbers.  Or maybe a weight loss program that distributes natural foods.  A few of the better sites are CJ Affiliates and Amazon for products.
Whatever your niche is,  whatever type of website and product, if you are having trouble with motivation, try starting out by reading a good self help, motivational book.  
It's time to get motivated, get interested and check this new business opportunity out!  
Go here to read my post about Wealthy Affiliate, a great website for learning the affiliate marketing business!


As always, if you have any questions, we love hearing from you, ask below!
Also please leave us a comment!  
And SHARE this page with your friends!
Aloha,
Steve
SaveSave
SaveSave
SaveSave
SaveSave
SaveSave
SaveSave
SaveSave
SaveSave
(Visited 6 times, 1 visits today)